When Tina Worboys took up the challenge of creating a Beautiful Border at this year's Show, she didn't expect to take home a Platinum Award and the honour of Best Border!
We asked Tina to share her thoughts and motivations during her journey at BBC Gardeners' World Live Special Edition and her experience as she worked to breath life into her fantastic Meadow Border design.

I grew up watching Gardeners' World so when my design career took me into the garden, I knew there was one place I wanted to go to show what I could do
Epiphany
After 20 years as a graphic designer, it was whilst watching Gardeners' World one evening that my epiphany occurred. I was sick of using design to sell yet more 'stuff' to people, I wanted to use design for good rather than evil! I knew the power of good design could enhance someone's mood and maybe even their outlook but I wasn't sure where that left me. I'd dabbled with interior design but it didn't have the deeper connection I was looking for.
It was hearing Adam Frost speak one Friday evening that the lightbulb finally burst into light. He spoke about design the way I did, yet his subject matter was growing, living and actually benefiting the planet as well as the people. Bingo! I knew there and then that I'd found what I'd been searching for. Thanks Adam!
A long, bumpy road
The road to BBC Gardener's World Live Special Edition 2021 was a long one! I first contacted the team back in September 2019, ahead of the show due to take place in 2020. We all know what happened next, the world went into lockdown and everything ground to a halt. Unfortunately, not before I bought rather a lot of plants.
I attempted to keep these ever expanding seedlings, plugs and small plants going through that first unsettling lockdown in spring/summer 2020. During this time we were still living in London with a polytunnel taking up most of the garden, later banished to the allotment as the paddling pool took preference (quite right too). 
We'd decided to move out of London before the pandemic hit and found our new home just before lockdown. While the sale and purchase went through the plants largely failed. High winds destroyed the polytunnels, homeschooling and uncertainty zapped my enthusiasm and my Dad's worsening illness all added up to a pretty difficult time to say the least.
Everything culminated in late July. After 20 years in London we moved into our dream house in the country on the Tuesday and said goodbye to my Dad on the Friday. Possibly the strangest and hardest week I've known.
With the show back on for June 2021, I was off and running again, albeit in that strange autopilot that grief creates. Once again the polytunnel failed me. High winds one night lifted the whole thing and we found it the next day, over the out-building, down the bank and in a ditch. Not one to give up, and with a very supportive family, it was time to move everything indoors!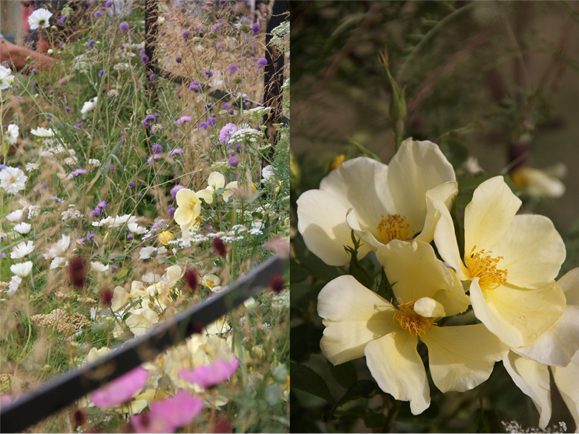 Flower Power
Through utter mollycoddling, seed trays turned into hundreds of happy pots. With all my annuals sown extremely early to ensure they'd definitely be in full flower for June, the continued pandemic meant the show was now pushed back to the end of August. I wasn't going to give up now so I ploughed on, again, this time deadheading and praying the plants would just keep going. 
With hindsight I can see that this drawn out build up helped me immensely. Having to focus on the daily rituals of growing plants helped me through that awful first period after bereavement. I joined the millions of others who found solace and comfort in gardening through uncertainty.
By growing the plants myself I also learned so much. Many came and went, roses flowered at will (their will and sadly not mine), slugs ravaged some while others trooped on unscathed. As an organic gardener using only peat free compost it was heart warming to see the garden full of blooms, butterflies and bees, knowing I was leaving the lightest of footprints but making a huge difference.
Flowers and nerves
At long last it was finally time to pack up the van and hit the road. With my husband behind the wheel, a van full of plants and a stomach full or nerves we were off. A busy scene of diggers and high vis jackets greeted us as arrived at the NEC and found our way to our empty plot. Nerves were quickly banished by the lovely GWL team who showed us the ropes and helped us with anything we needed. Then it was head down and start building the border that had been rattling around in my head, and garden, for nearly 2 years.
And action!
After a couple of days of solid planting the Gardeners' World TV crew asked if they could film my border the next morning with the wonderful Carol Klein for that Friday's preview show. Obviously I said yes and planted at double speed to have the border looking perfect for its TV debut. The whole team were lovely and watching Carol talk so passionately and animatedly, as I'd seen her do so many times before, but this time about my work, was such a surreal moment that I did shed a few slightly overwhelmed tears!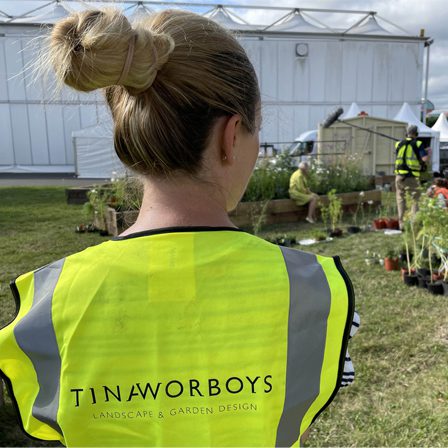 Judgement day
The border was finished. I was so happy with what I'd created. It felt wild but curated, detailed but simple, beautiful but accessible, exactly what I'd set out to achieve. My plants looked great and all the little details I'd layered in were working their magic, I just hoped the judges would agree! A nervous day of tweaking and waiting followed. That evening when head judge, Richard Barnard, announced I'd won a Platinum Award I was over the moon, and when he read out my name as the Best Beautiful Border it felt incredible. All those months of hard work, false starts and set backs had all been worth it, I'd done it!
Show time
With all the hard work behind me and my award in hand it was time to meet the public and see what they made of The Meadow Border. Over the next four days the public response was beyond anything I could have hoped for. I really thought the 'wild' look would be more divisive but it wasn't at all. The meadow aesthetic hit a nerve and people responded so positively that it filled me with hope for a wilder future. 
From the moment we arrived at the NEC, the show team, the other designers, landscapers, contractors and everyone was kind, welcoming and went out of their way to help and make sure we were happy and on track. There was a true camaraderie amongst us, many people having been on their own bumpy road to the show.
Go for it!
If anyone is reading this thinking I might apply but I'm nervous or not sure, I'd say definitely, definitely do it. It was an amazing experience, I learned a lot and met some wonderful people in the process. Don't be the one sitting on the sofa thinking it could have been me: make it you!
If you'd like to take the challenge of designing a Beautiful Border at one of the BBC Gardeners' World events in 2022 or beyond, email [email protected] for more details.