16 Oct 2020
Carrot and Apple Muffins recipe - celebrate Apple Day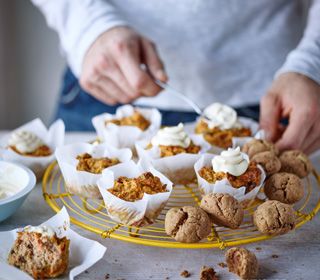 National Apple Day falls on 21 October, with celebrations taking place through the month. Whilst it champions this important fruit and orchards, it also honours the richness of our biodiversity, landscape, ecology and culture.
Pair your apples with another seasonal staple, the carrot, in this quick and easy Carrot and Apple Muffin recipe from our friends over at the BBC Good Food Show
(image © Maja Smend).
APPLE AND CARROT MUFFINS RECIPE
These are a great snack to enjoy with a cup of tea. Who doesn't love a muffin? They'll take 40 minutes to make so you can rustle them up with your homegrown apples and carrots to enjoy in no time.
INGREDIENTS (makes 10)
2 medium carrots, grated (130g)
2 medium eating apples, peeled and grated (170g)
100g ground almonds
60g raisins
1½ tsp mixed spice
1 tsp ground cinnamon
1 tsp baking powder
75g ricotta
3 eggs
2 tsp vanilla extract
125g cream cheese
2 tsp honey
METHOD
Preheat your oven to 180°C (fan 160°C, gas mark 4) and line a 12-hole muffin tin with small muffin cases.
Place all the ingredients apart from 1 teaspoon of the vanilla extract, the cream cheese and the honey in a large bowl and beat with a wooden spoon until fully combined.
Divide the mixture equally among the muffin cases and slide into the oven. Bake the muffins for 25 minutes, by which time they will be cooked through and a little golden on the top.
Leave to cool.
While the muffins are cooling, whip together the remaining vanilla extract, cream cheese and honey, adding a splash of water to slacken if needed.
When the muffins are totally cool, spread the cream cheese icing on top.
---
You'll find a showful of ideas for how to grow and cook your own produce at BBC Gardeners' World Live and the BBC Good Food Show Summer!
For more top growing tips and recipe inspiration straight to your inbox
---