12 Nov 2020
Chickpea and cabbage soup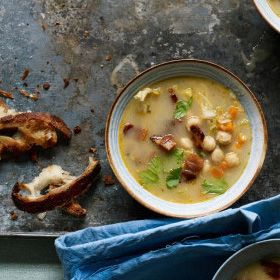 When little else will grow in the veg patch, the cabbage is king. Brilliantly versatile, cooked or raw, they also have an impressive nutrient profile especially high in Vitamin C and K and can be harvested almost all year round. Cabbage 'January King' is a top, hardy variety, that will comfortably survive the winter. For tips and tricks on how to grow your own cabbages this year click here to find the BBC Gardeners' World 'How to guide' on growing cabbages at home.
To help inspire you, our friends at the BBC Good Food Show have created a delicious recipe to make use of your cabbages this season. Paired with chickpeas, this hearty winter soup will stave off any autumnal chills. Find the full recipe below.
Ingredients
1 savoy cabbage (around 800g)
100g fresh tomatoes
1 large King Edward potato
3 tbsp olive oil
3 bay leaves
100g soffritto
½ tsp ground cinnamon
½ tsp ground cumin
A small handful of fresh coriander, chopped
A handful of rock salt
240g canned chickpeas
½ tsp chilli flakes
1 loaf rustic bread
50ml vegetable oil
1 tsp fine salt
100g guanciale/pancetta/bacon, sliced

Method
1. Cut the cabbage, tomato and potato into rough chunks. Brown the vegetables over a low heat in a casserole with the olive oil and bay leaves.
2. After 5 minutes, add the soffritto, cinnamon, cumin and half the coriander. Add 1.5 litres of hot water, bring to a boil, add the rock salt and cook over a low heat, covered with a lid, for 30 minutes.
3. Drain the chickpeas in a colander and add them to the soup. Sprinkle with some chilli flakes and continue cooking over a low heat uncovered for another 15 minutes.
4. Cut the bread into slices and fry in hot vegetable oil: drain on kitchen paper and salt lightly. Meanwhile, cut the guanciale into 5mm strips and fry in a nonstick frying pan for 5 minutes, or until crisp. Lightly dry each strip on some kitchen paper.
5. With a handheld blender, roughly blend half the soup before returning it to the pan. Serve warm and top it with croutons, guanciale and the remaining fresh coriander.
---
You'll find a showful of ideas for how to grow and cook your own produce at BBC Gardeners' World Live and the BBC Good Food Show Summer!
For more top growing tips and recipe inspiration straight to your inbox