26 Apr 2018
Michel Roux Jr's Soufflé a la rhubarbe recipe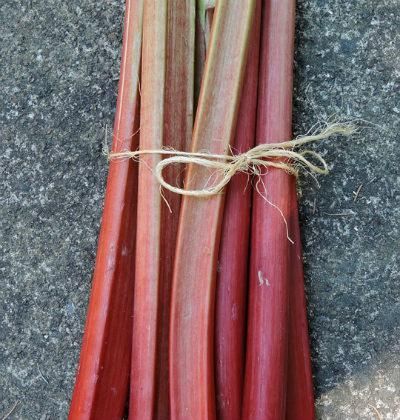 Recipe from the Veg Patch
Michel Roux Jr's Soufflé a la rhubarbe recipe, paired with top growing tips from gardenersworld.com
Rhubarb is a stunning plant for your garden with deep red stalks and bright green leaves. If you're new to growing it, don't be tempted to pick it in its first summer as it needs time to establish. Read on for Michel Roux Jr's Soufflé a la rhubarbe recipe followed by more tips on growing your own delicious rhubarb from our friends at gardenersworld.com
---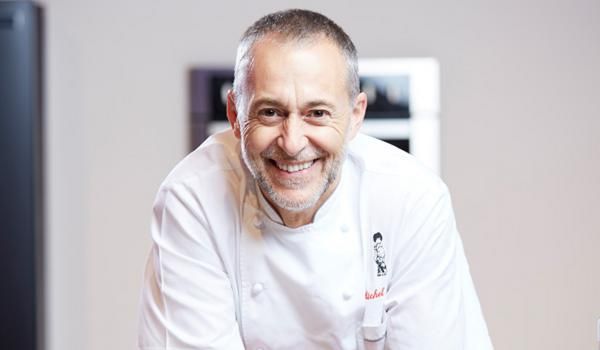 Recipe from the Veg Patch
A seasonal take on a classic light dessert, give Michel Roux Jr's version a go with some of your deliciously tangy homegrown rhubarb this year. Michel Roux Jr has previously demonstrated this fresh recipe live at the BBC Good Food Show.
Michel Roux Jr's Soufflé a la rhubarbe
INGREDIENTS
For the soufflé:
150g fresh rhubarb, sliced
4 tbsp demerara sugar
1 tbsp stem ginger in syrup, finely chopped
1 tbsp Calvados, optional
1 tbsp corn flour
200g free-range egg whites (about 5 egg whites)
40g caster sugar, plus extra for dusting
softened unsalted butter and caster sugar for greasing and lining the ramekins
clotted cream to serve, optional
For the crumble topping:
½ tbsp shelled pistachios, chopped
½ tbsp nibbed almonds
½ tbsp demerara sugar
½ tbsp rolled oats
½ tbsp desiccated coconut
METHOD
For the soufflé, tip the rhubarb into a pan with the demerara sugar and 1 tbsp water. Bring to a simmer, stir gently and cook until tender. Set some rhubarb chunks aside for decoration and douse them with a little stem ginger syrup and Calvados if using.
Tip the remaining cooked rhubarb into the bowl of a food processor with the cooking juices and blitz to a purée. If necessary pass the purée through a fine sieve or muslin cloth and place back into the saucepan.
Mix the corn flour with 1 tbsp water to make a paste and whisk into the rhubarb purée. Bring to the boil, stirring constantly to avoid any lumps. Remove from the heat and leave to cool, but do not refrigerate.
For the crumble topping, preheat the oven to 220C/fan 200C / gas 7. Mix the pistachios, almonds, sugar, oats and coconut together and spread the mixture over a non-stick baking tray. Toast the crumble for a few minutes until slightly golden and aromatic, then remove from the oven and reduce the temperature to 200C/fan 180C/gas 6.
Whisk the egg whites until frothy, then add the caster sugar and whisk to stiff peaks.
Beat one third of of the egg whites into the cooled rhubarb purée, then gently fold in the remaining egg whites. Butter 6 individual ramekin dishes thoroughly with butter and coat the insides with caster sugar. Always brush upwards when buttering soufflé dishes as this helps the soufflés rise.
Half fill the ramekins with the rhubarb soufflé mixture, then add the reserved cooked rhubarb pieces and stem ginger. Fill the ramekins to the top, level off with a palette knife. Run your thumb or a knife around the edge of the ramekin to enable the soufflé to rise and cook for 8 mins.
Sprinkle on the crumble topping and continue to cook for a further 2-3 mins. Serve with a spoonful of clotted cream if you like.
Michel Roux Jr will be at the BBC Good Food Show Summer on Sunday 17 June 2018, and all tickets to BBC Gardeners' World Live include free entry to this tasty show!
---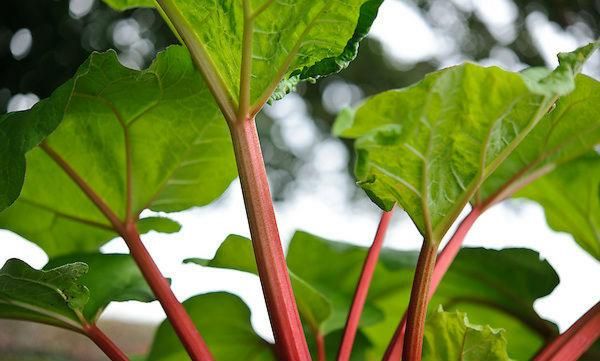 Tips from the Veg Patch - growing rhubarb, top tips from our friends at gardenersworld.com
Plant bare-root rhubarb crowns in late winter or early spring, and pot-grown rhubarb in autumn. Prepare the soil by forking in lots of well-rotted manure or compost before planting. Make sure the buds are just below soil level.
Apply a mulch of compost or well-rotted manure around the roots in spring. This will provide extra nutrients and also keep the roots damp in summer. On poor soils, apply a general fertiliser beneath the mulch, too.
Rhubarb's large leaves form a massive canopy over the soil. creating a 'rain shadow', so water doesn't reach the roots. As it's a thirsty crop, water thoroughly, even after heavy rain.
As soon as any flower stems appear, remove them with secateurs. If they are left, the plant devotes all its energies to flowering, which can seriously weaken, and sometimes kill it.
---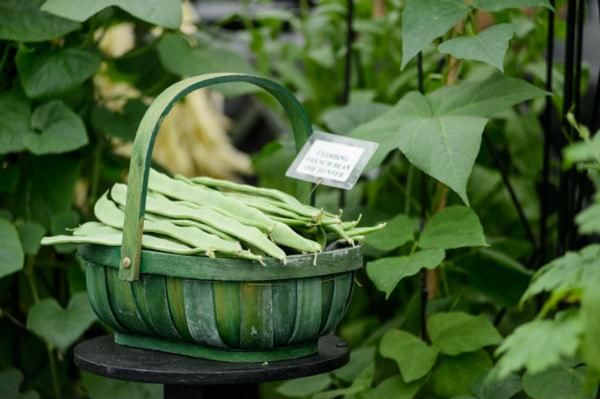 Here at BBC Gardeners' World Live HQ we are true believers that home-grown tastes better. Every year we bring you top experts and inspiration as well as award-winning nurseries to shop for quality veg, herb and fruit plants. With your head full of growing ideas, you can go on to enjoy your free entry to the BBC Good Food Show Summer where top chefs demonstrate recipes using tasty summer produce, live on stage!
---
Discover more Recipes and Tips from the Veg Patch
---