04 Jan 2020
Cauliflower - grow and eat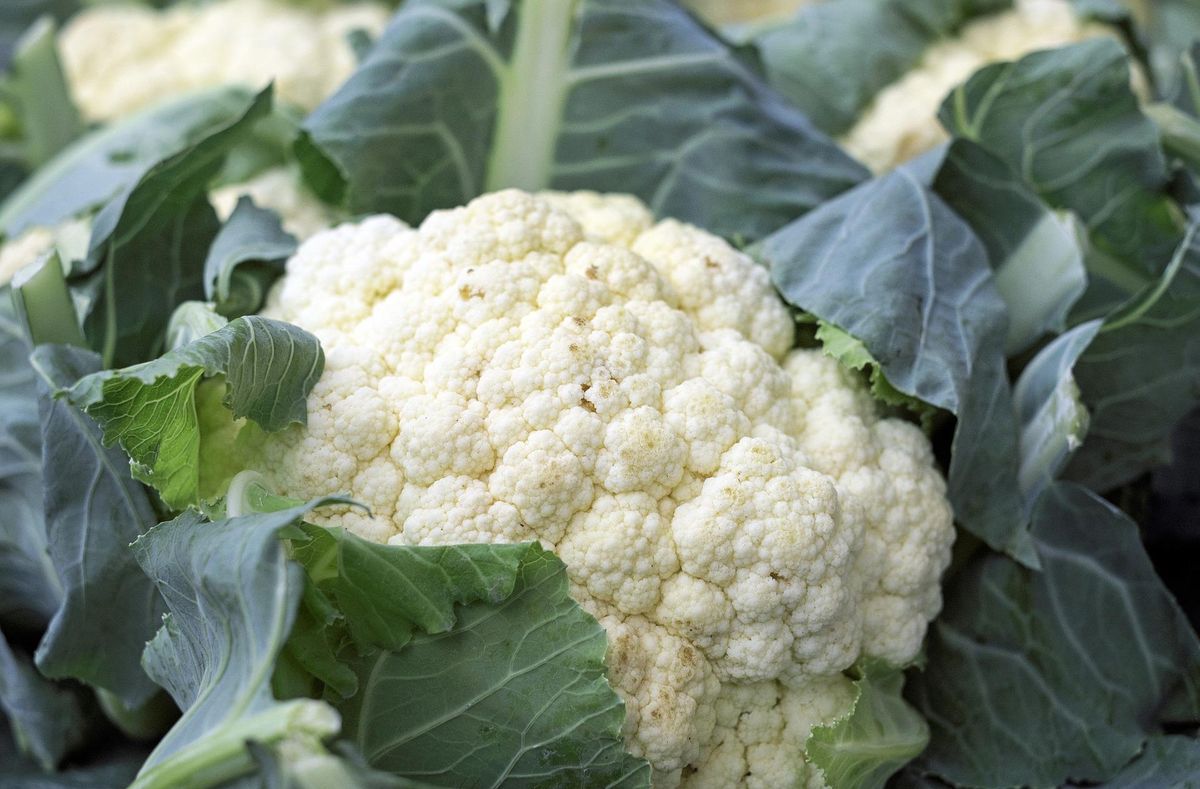 Cauliflowers are very satisfying veg to grow, though they're not known for their ease. Give them plenty of compost, lots of space, firm soil and a secure net to prevent pests from getting in, and you're off to a good start.
You can sow cauliflower seeds under glass in January/February. However, the main sowing period is March to May.
There are a variety of cauliflower varieties available, so you don't need to stick with the common white variety. Try Cauliflower 'Grafitti' for its remarkably bright purple florets or Cauliflower 'Veronica' with it's beautiful Romanesco type head of fractal-like spears.
For Monty Don's expert advice on successfully growing your own cauliflowers, click the image below: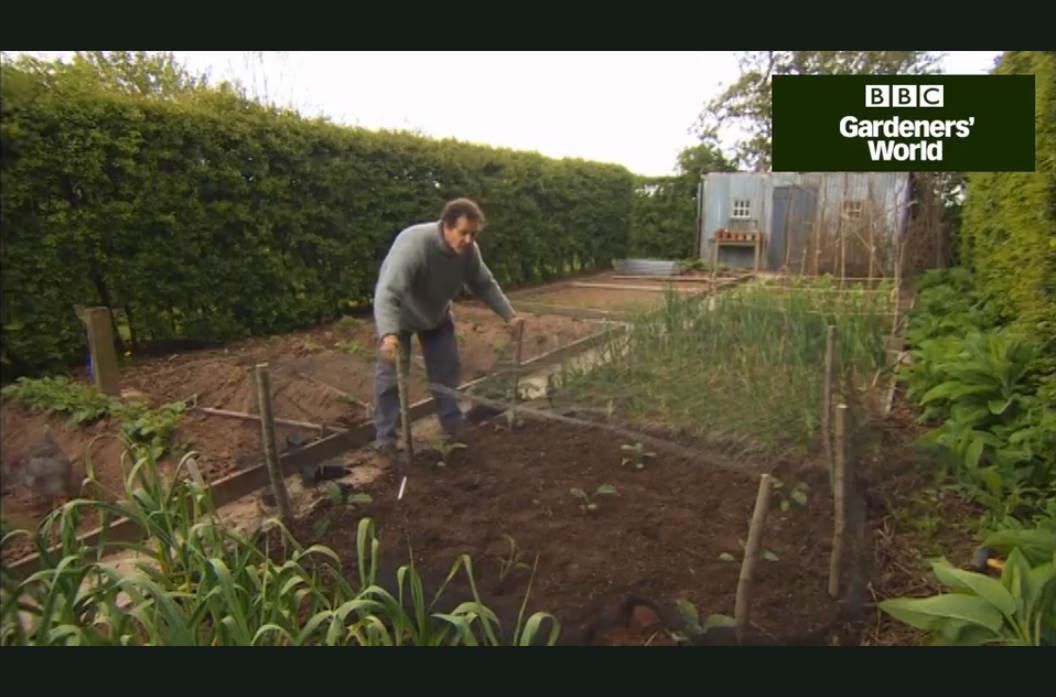 Try yours with Rosie Birkett's Roasted Cauliflower with Harissa and Chickpea sauce as demonstrated at the BBC Good Food Show Winter 2019.
---
Roasted cauliflower with harissa & chickpea sauce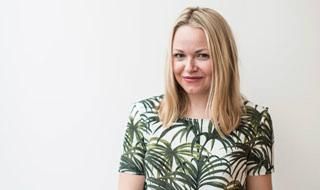 Rosie Birkett is a food writer, presenter and author. As well as publishing three books including her acclaimed cookbook, A Lot On Her Plate, Rosie is a contributing editor for BBC Good Food magazine and is the brand new monthly columnist for The Sunday Times' The Dish...
Rosie demonstrated this recipe live on stage at the BBC Good Food Show Winter 2019, and it's available, along with a wide range of other tasty recipes, in the showguide.
INGREDIENTS (serves 4)
1 large cauliflower
2 tbsp extra virgin olive oil, plus a little for the tin
½ tsp cumin seeds
1 large onion, sliced
2 x 400g cans chopped tomatoes
400g can chickpeas, rinsed and drained
1 fat garlic clove
1 tbsp rose harissa
A knob of butter (35g)
2 tbsp flaked almonds, toasted
Salad to serve (optional)
For the marinade
200g natural yoghurt
2 tsp smoked paprika
1 tsp cumin seeds
1 tsp onion granules
A pinch of dried or fresh thyme leaves
1 fat garlic clove, grated
1½ tsp sea salt flakes
1/2 lemon, juiced
1 tbsp extra virgin olive oil
For the tahini yoghurt
2 tbsp tahini
1 tbsp extra virgin olive oil
4 tbsp plain natural yoghurt
METHOD
Make the marinade by combining all the ingredients in a mixing bowl and stirring until well combined. Remove any leaves from your cauliflower and finely slice crossways. Toss them into another bowl with a pinch of salt and mix. Save for later.
Cut the cauliflower into thick slices about 1½ cm – 2cm thick, don't worry if some of the florets break off - it's all being roasted. Grease a large roasting tray and put the cauliflower slices and florets in there. Slather them all over in the marinade, cover with foil and allow to marinade for at least 2 hrs, but you could leave it in the fridge all day or overnight if you wanted.
Heat the oven to 200C/180C fan/gas 6. Roast the cauliflower, with the foil on for 40–45 mins.
While it's roasting, make the sauce. In a heavy bottomed frying pan or skillet heat the olive oil with a pinch of cumin seeds over a medium heat. Slide in the onion and a pinch of salt and fry, stirring, for 8-10 mins, until softened and starting to caramelise. Add in the chopped tomatoes, season, turn the heat up slightly and cook, stirring, for 6-8 mins, until reduced, then add in the garlic, harissa and butter and stir to combine. Transfer to the bowl of a food processor and blitz until smooth. Pour back into the pan, add in the chickpeas and cauliflower leaves and warm through.
After 45 mins, remove the foil from the roasting tray and return to the oven for 10 mins to caramelise. Stir the tahini and olive oil into the yoghurt and season.
Once the cauliflower is ready, divide the warm sauce between plates, top with the cauliflower slices and tahini yoghurt. Scatter over the toasted almonds. Serve with a well-dressed salad of crunchy leaves.
---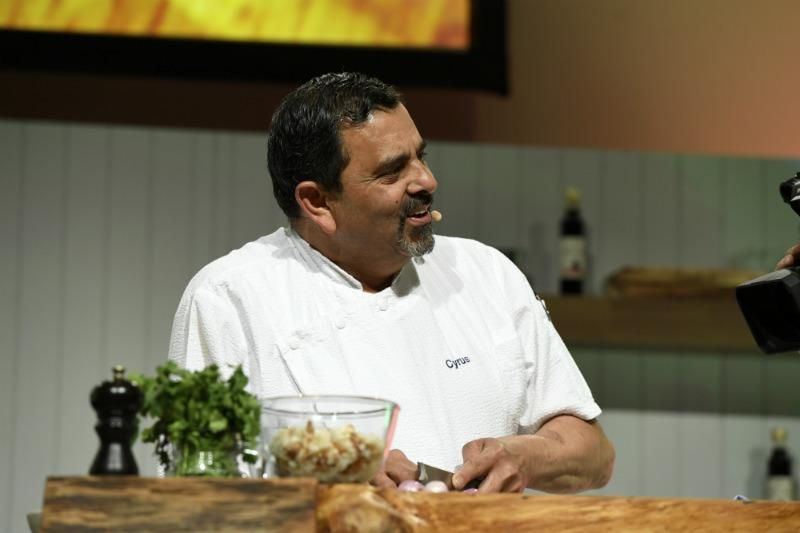 You can see more top chefs demonstrating tasty seasonal recipes at the BBC Good Food Show Summer. Remember, all tickets to BBC Gardeners' World Live include free entry to this tasty show!
For more inspiration direct to your inbox...
---