06 Feb 2019
Valentine's Day Gift Ideas for Gardeners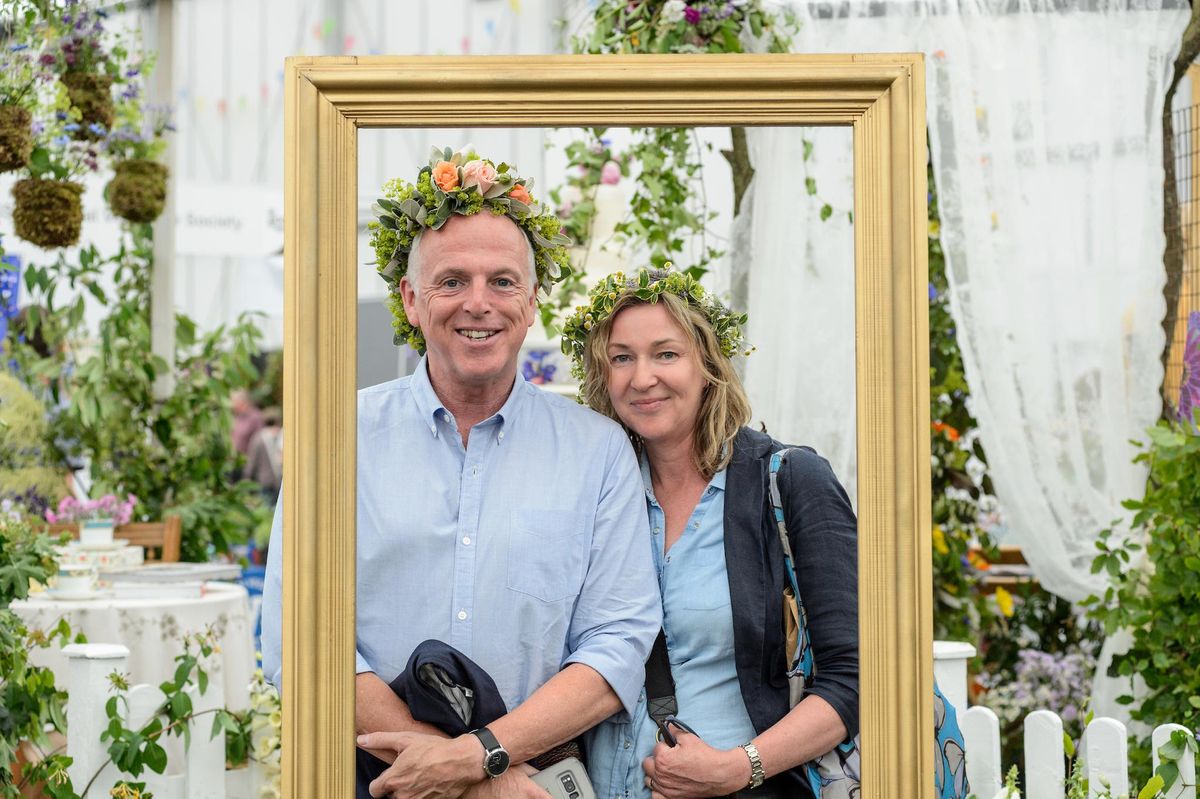 Don't beat around the rose bush - get a great gift for the gardener in your life this Valentine's Day!
Tickets to BBC Gardeners' World Live make a great gift (book today with instant delivery to your inbox with our online discount) as well as there being a host of incredible ideas to be found in our exhibitors.
You can say it with so much more than flowers this year - read on for the ultimate list for the hands-on gardener this Valentine's Day...
---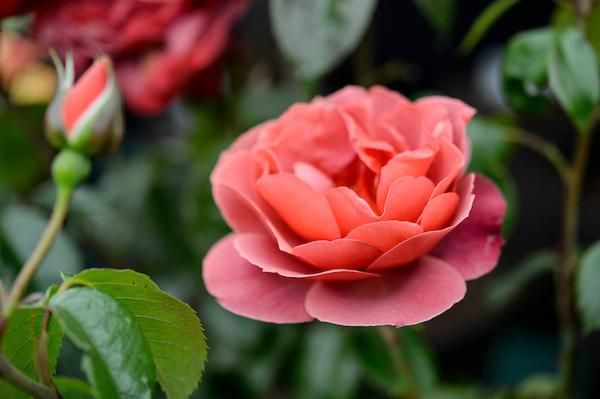 Peter Beales Roses, in the Floral Marquee
Don't beat around the rose bush this Valetine's Day! Say 'I Love You' with a rose plant that will continue to grow through the years.
All Peter Beales' roses are grown in East Anglia and take nearly two years before they are ready to be sold. Peter Beales Roses have been passionate about roses since 1968, when Peter opened his first rose nursery. Since then Peter Beales Roses have become renowned around the world for specialising in the preservation of old fashioned, historic and rare roses, as well as winning many prestigious awards, including 25 Gold medals at the RHS Chelsea Flower Show.
Shop from Peter Beales Roses now >
---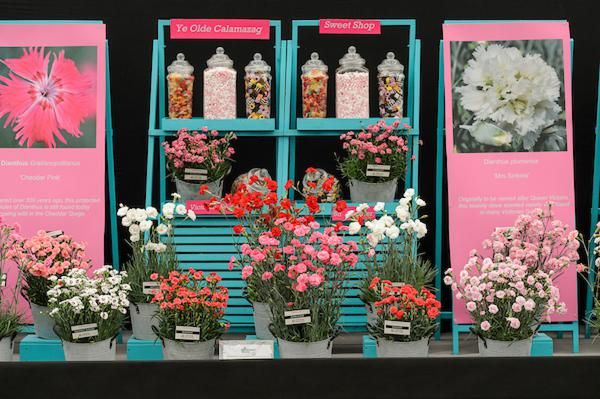 Calamazag Nursery, in the Floral Marquee
If there's a flower of love, the carnation is it! Dianthus literally means 'Flower of the Gods'. Red is a symbol of love, pride and admiration, pink symbolizes the love of a woman or a mother; and white symbolizes innocence and pure love.
Calamazag grow many different plants but specialise in an extensive range of dianthus and are a well-known exhibitor at major plant shows including BBC Gardeners' World Live. They're a family run plant nursery set within a 30-acre farmland based near the seaside town of Looe in East Cornwall.
---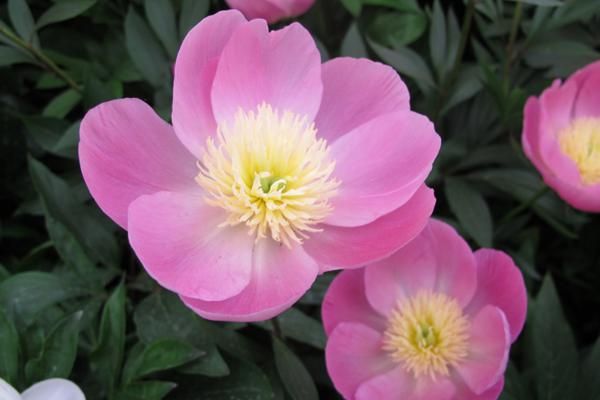 Primrose Hall, in the Floral Marquee
Peony 'Bowl of Love' is a lovely compact plant which doesn't grow too tall, so need for staking. It has carmine pink outer petals and pale cream petaloids. An exquisite fragrant, mid-flowering peony. Any fertile, moist, well-drained soil in full sun or partial shade in a sheltered position. Get 25% off any Primrose Hall purchase with code: LOVEGWL (cannot be used on discounted items or in conjunction with any other offer. Offer expires 31.03.19).
Get 25% off, quote LOVEGWL
---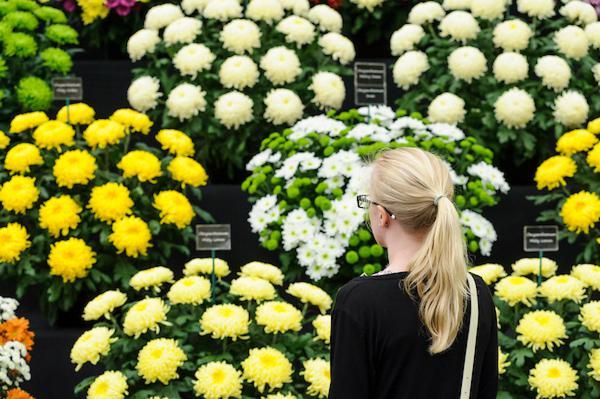 Chrysanthemums Direct, in the Floral Marquee
Chrysanthemums are one of the most popular cut flowers in the world - but why give a bunch of cut flowers that'll last days, when you could give a plant for Valentine's Day that'll last years?
Chrysanthemums Direct offer the widest range of Chrysanthemums available to the U.K. market, with over 420 varieties, for both growing in the garden and exhibition. The young plants are propagated from clean stock plants, from their nursery in Cheshire. They supply well-rooted plug plants, in a type of paper plug that does not restrict root growth, so you will get the best possible start to your growing season.
Shop from Chrysanthemums Direct >
---

African Masters of Stone - Stand: E232
Give a loved one something to cherish forever with a garden sculpture from Zimbabwean craftsmen. African Masters of Stone represent a range of artists and a variety of sytles.
Shop from African Masters of Stone online >
---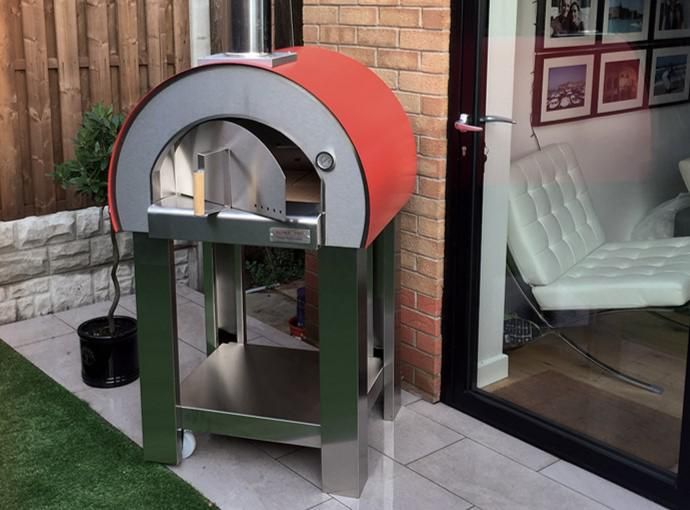 Alpha Pro - Stand: G572
If you have a Barbecue King or Queen in the house...this is the ultimate gift!
With the durability, versatility and performance of a traditional Italian wood fired oven but with the ability to move and alter position to suit your needs, be it the middle of the day, late afternoon or early evening… From an impromptu pizza with family to a full scale party with friends, everyone will gravitate towards the Alpha Pro!
Direct radiant heat and maximum heat retention, perfect combinations for achieving authentic flavours normally associated with a traditional Italian oven, their unique stainless steel dome allows high cooking temperatures within 10 minutes from lighting; whether roasting, baking fresh pizza, baking bread, grilling steak or fish, or simply having a BBQ, the results will be mouth-watering!
Manufactured in the UK.
---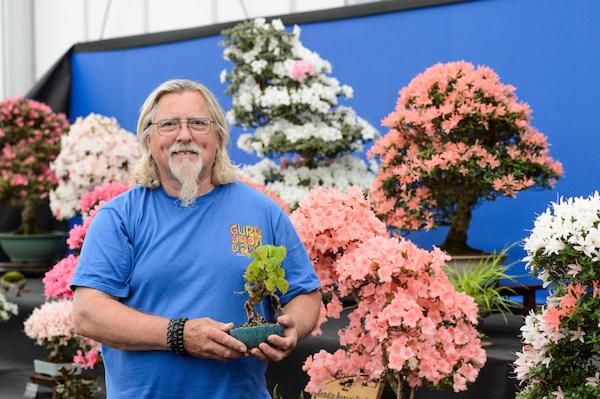 Mendip Bonsai Studio, in the Floral Marquee
Mendip Bonsai Studio, set up by John Trott in 1996, is established as one of the leading national exhibiting bonsai nurseries in the country are leading bonsai specialists - and you could treat a loved one this Valentine's Day to a specialist workshop at their studios.
With a bonsai background going back to 1969, John's teaching puts a large emphasis on the student learning important horticultural practices relevant to growing, styling and maintaining bonsai in top class condition. The workshops are held in the heart of the Mendips, at various locations in and around Shepton Mallet in Somerset.
Mendip Bonsai Studio were awarded the Geoff Hamilton Award for best exhibit in the Floral Marquee along with a Platinum Award at BBC Gardeners' World Live 2018.
Shop from Mendip Bonsai online >
---

Jardin De France - Stand: E109,G232
The carefully designed pieces in these tools can simply and effortlessly be changed in the future. For example, when the blades on your tools become blunt, you can simply replace the blade. The unique ratchet mechanism allows you to exert maximum leverage with minimum effort. Designed and developed to the highest standard, each design has been rigorously tried and tested to ensure a long working life for both amateur and professional gardeners.
With every item sold, Jardin de France plant a tree in Madagascar, Indonesia, Nepal or Haiti where native useful trees are planted to benefit the local communities.
Shop from Jardin De France online >
---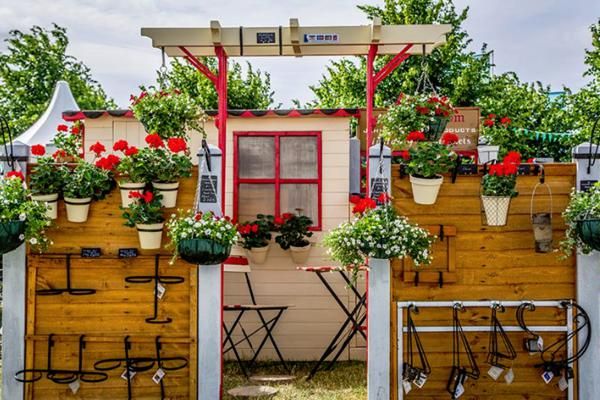 Clip 'n' Hang - Stand E301
Don't just give a plant this Valentine's Day, give it with an innovative Clip 'n' Hang so it can be put straight into pride of place at home!
The Clip n Hang range of 'Instant Fit' hanging basket, pot holder and bird feeder brackets, simply clip on to concrete fence posts, solid fence posts, fences, walls, balcony rails, trellis and drainpipes. There is no need for drilling and they are made to a high specification from electroplated steel.
Shop from Clip 'n' Hang online >
---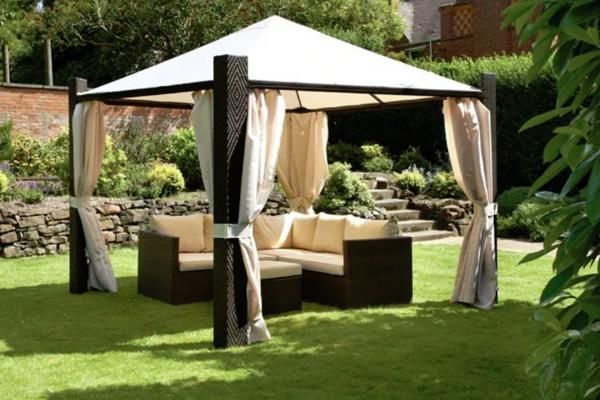 Kingsley Smythe
Look forward to romantic al-fresco meals with the gardener in your life this year, with a new set of garden furniture.
Kingsley Smythe offer Teak and Rattan garden furniture, as well as our indoor range, designed and crafted to enhance your living experience.
Shop from Kingsley Smythe online >

---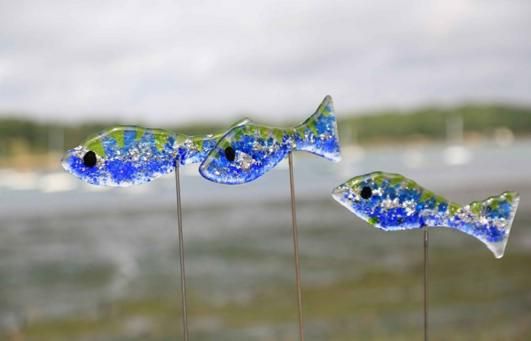 Ongley Snook Designs - Stand: E230
A great valentines' gift that's the gardener's version of a trio of wall-mounted flying ducks! These fused bullseye glass fish look fantastic swimming over your plants.
Karen works from a small workshop at the bottom of her garden, just past the chickens! She is a multi-media artist who specialises in glass, including stained, slumped, fused and lamp worked glass, all with jewel-like colours.
Shop from Ongley Snook Designs online >
---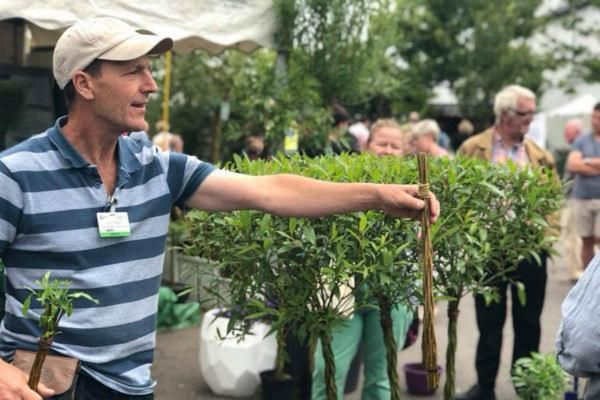 The Willow Wand - Stand: E40
The award-winning Willow Wand ® is handcrafted in the UK from 9 living willow stems which are expertly selected by their master weavers and woven by hand with accuracy and skill into a visually stunning, symmetrical 'Wand'. Plant it, water it, watch it grow, and in as little as 6 weeks the decorative stem will behave magically grown a beautiful topiary crown.
The decorative stem remains fixed in height, but over the first few seasons grafts together into a single trunk, retaining its stunning woven effect. Simply trim the crown to any desired shape; perfect as a centre-piece, in groups, or to form standard decorative hedging.
Shop from The Willow Wand online >



---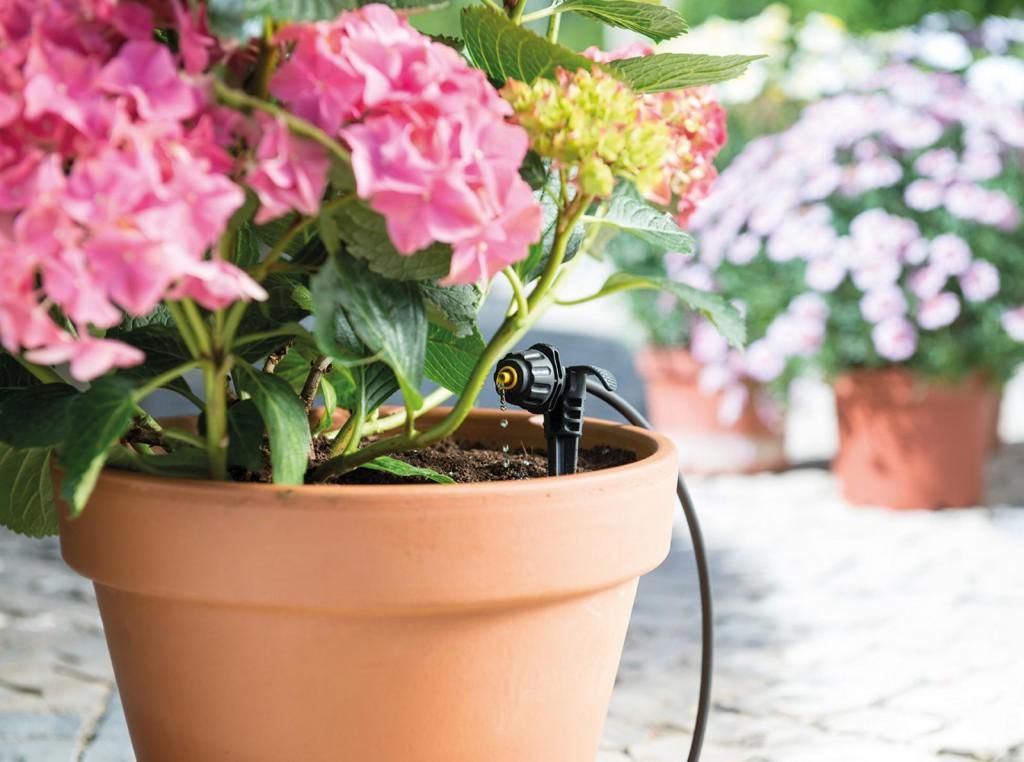 Hozelock - Stand G244
Give your gardener something to make the job easier, meaning that there is more time to enjoy the fruits of their labour, with Hozelock!
For almost 60 years, Hozelock has specialised in finding and meeting the needs of gardeners with their continual development of watering and pond solutions to help gardens flourish and come to life.
---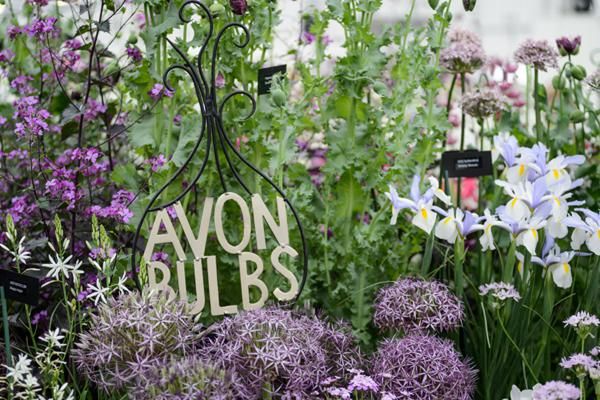 Avon Bulbs
You can visit Avon Bulbs in the Floral Marquee at the Show. In the meantime shop from their beautiful selection of snowdrops which have a pronounced upside down heart on the petals. This is the ideal time of year to purchase these plants, not only due to the romantic time of year but because they need to be planted in the green.
---

BBC Gardeners' World Live Gift Vouchers, from £10. Shop now >
Gift vouchers always make a fantastic present – and what better for a garden lover than vouchers that can be used to book tickets to BBC Gardeners' World Live! Gift Vouchers offer your loved one flexibility and choice, as they can choose their ticket type, their day, theatre sessions and even the Show - as our Gift Vouchers are valid for any one of our BBC Good Food Shows too,
---
If you would like to sweeten up your valentine, or are looking for cocktail inspiration or simply want to indulge in sweet treats - check out ideas for Valentine's Day from our friends the BBC Good Food Show Summer.
And for the best day out for gardeners
---