Mark Lane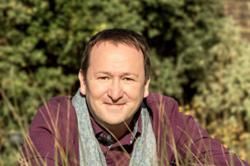 TV Gardening Presenter, Landscape Designer and Writer.
Extremely creative, productive and with a unique perspective on life, landscape design, gardening, art history and disability, Mark Lane has led a remarkable life. He has gained recognition as a first-class landscape designer, being the UK's first garden designer in a wheelchair, as well as the first BBC gardening presenter in a wheelchair.
As a broadcaster he is a presenter of the award winning BBC Gardeners' World, as well a presenter for BBC Gardeners' World Live and the Royal Horticultural Society's Flower Shows – Chelsea, Hampton Court Palace, Tatton. BBC Gardeners' World is one of the handful of factual TV programmes with a long pedigree of 50 years, viewed by a staggering 3 million people on a weekly basis, in the UK alone. Says Mark: "I'm here in a wheelchair and I can do these things. First and foremost I am a presenter, who just happens to be in a chair, but if I can be an inspiration to other people, then all the better for it."
Mark graduated from University College London in Art History with B.A. (Hons). He went on to become the Publishing Director for the Royal Institute of British Architects (RIBA) and the Managing Editor for the leading international Arts publisher Thames & Hudson.
In 2001 Mark was in a car accident and had to have operations on his spine, which were complicated by him being born with spina bifida. Following a long rehabilitation period Mark studied garden design through an Open Learning course and has gone on to become the first recognised UK garden designer in a wheelchair.
Read more...
Mark's Early Years
Born in Hertfordshire in 1969, the family soon moved to Hove, just outside of Brighton. "I was very lucky growing up where I did," says Mark, "We overlooked the South Downs, with the countryside in walking distance to the north, and the beach to the south. As soon as I could walk I was fascinated by nature, wildlife, plants and art.
Mark's earliest gardening memories are of him, aged 6 or 7, following his grandparents around their large garden, especially the veggie patch, growing cress on the window sill, tying in climbers and dead-heading plants. With an aptitude to paint and draw from a very young age, Mark would set up his easel to depict the rolling hills, the ocean, and the local flora and fauna. Mark was also a gifted young actor and flautist and when it came to choosing a university Mark had to decide between art and music. Art won the day, and with a fascination in the cultural, social and psychology aspects of art he started to put together a plan for his future, incorporating his love for words and art. His meteoric rise in publishing was rewarding and great fun, but the car accident in 2001 altered his career path. But as he says, "I am so happy now, presenting on subjects that I love and am passionate about. As well as creating new landscapes and gardens for future generations to come".
Writing
A prolific writer, Mark has been published in BBC Gardeners' World magazine, the Royal Horticultural Society's (RHS) journal The Garden, Which? Gardening, the Daily Mail, as well as Landscape & Urban Design magazine, The Guardian newspaper, the Wealden Times magazine, Pro Landscaper, Kent Life and Surrey Homes.
Charity Work
Mark is passionate about promoting a positive image of disability, as well as the immediate and long-term benefits that gardening has on both our physical and mental health.
Mark is the 'Health, Wellbeing and Community' Ambassador for Groundwork, the community charity with a green heart carrying out thousands of projects each year across the UK, building stronger communities by improving green spaces. He is also an Ambassador for Greenfingers, the national charity dedicated to supporting children who spend time in hospices around the UK, along with their families, by creating inspiring gardens and outdoor spaces for them to benefit from.
Mark is an Ambassador for Thrive, the disability charity that uses gardening to positively change lives. "I am living proof of how gardening, the great outdoors, wildlife and being alone or with others can dramatically change your life. In a strange but positive way, my disability has made me more determined, and if I can help promote the community and environmental aspects of the great outdoors to thousands of people then I am more than happy to do so."
Talks
Mark is just as happy in front of a live crowd as he is in front of the camera. Sharing his excitement, enthusiasm and knowledge with others, Mark has given talks at Enham Trust, the Wealden Times Fair and the Landscape Show.
Photography
Self-trained, Mark keeps a visual diary of everything, from TV shoots to plant combinations, but the camerawork is purely an aide-memoire and does not get in the way of presenting.