Designed by David Negus, The 3D Gardener
Path of Renewal Garden is a fusion of Berlin and Duisberg steel works influences. It features a harmonious blend of clean lines with a touch of industrial charm using reclaimed materials. 
The palette is dominated by rusty hues, with pops of vibrant orange, purple and pinks through the planting and also the materials themselves. Creating a unique and eye-catching aesthetic 
The garden's main aim is to challenge people's perspectives on materials and inspire them to see the potential for reuse and repurposing. This is achieved by showcasing the beauty and benefits of reusing discarded items, the garden not only provides a visually stunning backdrop for the plants but also serves as a wildlife habitat and a source of personal satisfaction and fulfilment in giving items a new life. 
The garden boasts a bold use of reclaimed railway track as its edging and framework, creating a unique design element. The bespoke bench and screening made from reclaimed pallets and scaffold boards serve as a relaxation spot and add practicality as a water run-off feature while enhancing the garden's aesthetic. 
The garden also incorporates nature-filled areas made from old building materials, providing a visually appealing habitat for insects and other wildlife. The raised sleeper platforms offer a dynamic form and encourage exploration, providing elevated viewing points to appreciate the garden's intricate details and plantings.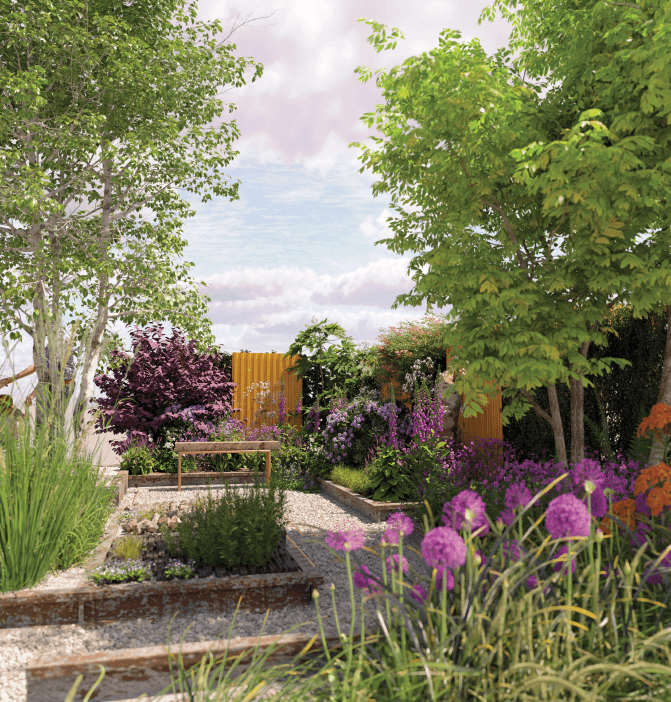 And thanks to garden product suppliers