For National Pet Month, we asked Professor David Stevens, designer of The  APL's 'What Lies Beneath' Show Garden at BBC Gardeners' World Live 2020, for his top tips on how to make your garden a great space for you and your four-legged friend. 
We've paired each tip with exhibitors who you'll find at BBC Gardeners' World Live 2020, to help you create the garden of both of your dreams!
(Pictured: A Space for Remembrance by Emma Berry Garden Designs, Beautiful Border at BBC Gardeners' World Live 2019)
Make sure paths are paved and solid, to stop your dog's paws getting wet and muddy when they use the garden – especially in winter. (Pictured,  Young Landscapers Award Show Garden supported by The APL, at BBC Gardeners' World Live 2019, designed by Prof. David Stevens)
Exhibitors: 
With over 1000 products across brick, roof, paving, facade and blocks, as well as extensive services in technical and design, Wienerberger may have just the thing for you. Stand G110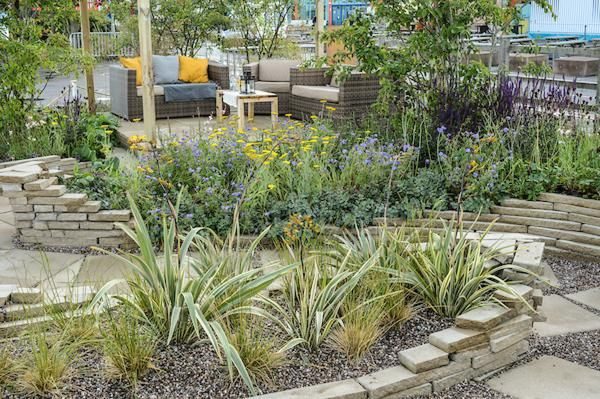 Try planting in containers, this avoids the need for large open planting beds which dogs might be tempted to dig in.(Pictured: The Stroke Association Legacy Garden 2019, by Alex Daley and Phil Pooleyat BBC Gardeners' World Live 2019)
Exhibitors:
Stone Illusions are a Somerset based company selling garden planters designed to emulate a traditional staddle stone. Made from a highly durable, UV stable, frost proof and 100% recyclable polymer. Stand G402
BBC Gardeners' World Live regulars Jardinopia sell decorative bronze, and hand-painted, plant pot feet depicting a range of characters & animals including popular dog breeds, that'll help keep your pots off the ground. Stand E90.
Keep your veg out of reach of that inquisitive nose with Vegepod. Vegepod create raised garden bed kits that are self-watering, elevated and portable with a greenhouse cover. e, easy gardening. Stand E220.
If planting in beds, mulch with bark or gravel – this not only limits watering but stops muddy paws. (Pictured: A Glimpse of South East Asia by Robyn Brookes, APL Avenue Show Garden at BBC Gardeners' World Live 2019)
Exhibitors:
Coconut Coir's coconut husk chips are made by the regular slicing of the coconut husk so that they are cut into uniform size and are considered by Coconut Coir to be one of the best soil conditioning supplements found in the natural world. Coco chips are free of weeds, repel insects and harmful fungi from growing. Stand G202.
Shell on Earth is a small family business in New Quay, Wales, who repurpose the crushed shells that are generated at their whelk processing factory. Use for; plant pot & terrarium dressing, garden borders & beds, drainage, soil aeration, mulch, paths & driveways. Stand G36.
And with all that exercise running around your garden, they'll need something tasty to eat. So you might want to seek out these other exhibitors fro BBC Gardeners' World Live:
Tailored dog food, based on your dog's unique nutritional needs and delivered to your door each month by Tails.com. Stand FJ26
Vitalin's blend of ingredients, nutritional expertise and modern manufacturing techniques to create a balanced food for your dog. Stand FG30/
Butternut Box delivers freshly prepared dog food.in individual portions. Stand G400 and E118.
As will be demonstrated by the  'What Lies Beneath' Show Garden at BBC Gardeners' World Live 2021, a well-constructed garden reduces the risk of accidents for dogs and owners alike with areas of mulching and paving, raised beds and steel pathways.
You'll find incredible garden inspiration in the Show Gardens and Beautiful Borders, and kit to make your garden dog-friendly from the exhibitors at BBC Gardeners' World Live.
For more inspiration direct to your inbox…